Hey folks,
This is a guitar that belongs to my mate and he's given it to me to look after and fix up as he lives in Japan and it's spent the last ten years in his Mum and Dad's shed...
This was given to him some time ago by a friend who had spray-painted it red. At some point my mate has got bored one day and had a look at his Dad's tools and found an electric sander....
From what I can make out, these guitars were made in the 60s/70s in Italy and distributed by Rose Morris in London, they seem to be reasonably well made for a cheap guitar..Rickenbacker sued at one point for copywright issues and production was ended, I believe
Here's what it looks like at the mo:
Missing chunk where the jack used to be:
The back:
A nice little surprise - I dont ever remember fitting it for him, but here is the last remaining part of my first guitar!!!
Ze frets and board:
Electrics:
I started to take it to bits to have a nose around and try to find out more about it and discovered some stuff on the net, not many of them exist or at least if they do they don't come up for sale that often..I saw one guy who was selling one that he had restored and painted black for £400 and in his ad he mentioned one in mint condition that had sold for $1400 USD recently!! I think he may have been talking shit tho
Heres what it may have once looked like: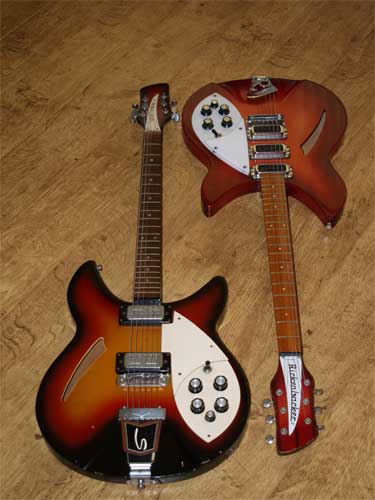 This puppy has some major issues, namely, a massive hole here the output jack should be, the finish, the frets are very very low and I have a feeling that the have been attacked with a file at one point because they are flat all of the way down the neck. The pick ups alwas seemed really weak as well. The bridge measures 4.9k and the neck is 4.7k. I may post pics of these later, but in a nutshell they appear to be single coils and the covers are riveted on, but there is a hole in the bottom with terminals for the wires exposed so you can easily attach a new pickup wire without having to crack them open....nice touch I thought..I'll get some silver braided wire on these things!
The things I remember about this guitar was that it had a really straight neck, really low frets and a really low action, it also had a really great little bridge where each of the saddles were little rollers with multiple slots in them, so you could space the strings as you preferred
I'm still trying to decide what to with it - I would like to get it back to it's original state in an ideal world with the correct finish etc, but I'm thinking that perhaps i may just paint it black, replace the missing bit of pickgaurd, do something to the tail and the pickups (maybe replace the magnets and/or rewind them), give the neck and board a good clean as they are both rather sticky, and generally give it some love